RECLAIMED (AND REPURPOSED) (UN)COMMON GOODS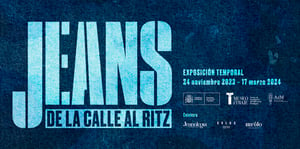 SPECIAL EDITIONS
From standout designs to lovingly restored denim
UNIQUE CREATIONS
Reimagining the forgotten denim: a tailored journey
COMPREHENSIVE TRAINING
Your passion, your career... your competitive edge
PASSION FOR RECOVERY
New life for forgotten garments
---
Welcome to ¡Ánimo, valiente!.
Here, salvaged garments come back to life in three ways:
1. As special editions, be it unique designs or lovingly repaired denim, ready to be worn again with pride.
2. As unique creations made from reclaimed denim garments.
3. As inspiration for a comprehensive training tailored to the next generation of fashion creatives.
(Find out more things by browsing the menu).
1. SPECIAL EDITIONS
From standout designs to lovingly restored denim
---
Fashion is a statement, and at ¡Ánimo, valiente!, we grasp the value of uniqueness. Whether it's an innovative design that stands out in a crowd or denim that has been carefully repaired and patched up, each piece is a testament to the dedication and craft we put into our work. These special editions aren't just garments: they're tales of renewal and love for detail.
Prepared to find your one-of-a-kind piece and tell your story?
2. UNIQUE CREATIONS
Reimagining the forgotten denim: a tailored journey
---
We believe that every garment has a unique story to tell. By rescuing denim garments and transforming them into something new, we help you to become part of that story. Each piece becomes a customised and enduring creation, designed to fit you and your style, merging artisan tradition with a contemporary vision. You won't just be looking forward to wearing it every day, but every time will be a recurring delight.
Ready to take a step forward in authenticity?
3. COMPREHENSIVE TRAINING
Your passion, your career... your competitive edge
---
You're one step away from joining the next generation of fashion professionals we're propelling. Our training programmes offer you the solid foundation you need, integrating the latest techniques and adapting to the demands of today's industry. We boost your creativity and teach you to value each garment as a source of inspiration and an opportunity for innovation.
Are you ready to take the leap and become the fashion professional you've always wanted to be?
READY FOR THE UNCHARTED?
Venture beyond the conventional
---
We're tired of seeing things as they are. We've had enough of the ordinary, the commonplace, the expected. That's why we invite you to dive into something truly exceptional.
We give you access to a world where each bulletin reveals secrets that you won't find anywhere else, where the hidden stories behind our garments are unveiled, emerging trends that are shaping fashion are revealed, and valuable advice for your career in the fashion world is shared.
You're going to be the first to know about our new designs and training programs, you're going to receive exclusive invitations and you're going to experience the genuine thrill of being part of something genuinely innovative.
This is not just a bulletin. It's an entryway into a world waiting to be discovered. Don't delay. Join us.
Dive into the unexpected.